Our comprehensive commercial janitorial services include cleaning a wide range of companies and organizations totaling over 15 million square feet of retail, office and venue space.
The list below is several examples of the commercial cleaning services provided by ECOCARE:
Office Cleaning:
We clean the air, not just the surfaces. Using our proprietary Trapping and Eradication Removal and Sanitizing Procedure®, combining microfiber technologies and certified HEPA filter equipment, our proven process traps and eliminates airborne particulates and doesn't simply move them around.
Hard Surface Floor Maintenance:
Whether tiled, slab or stone, your floors need to be cleaned and polished by a professional company who knows how to bring out the very best in your hard floor surface.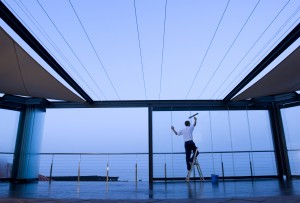 Window Cleaning:
EcoCare has been one of the most trusted windows cleaning companies, providing unsurpassed window cleaning service for many years.
Carpet Care:
EcoCare provides full carpet care for your store, restaurant, office or other high-traffic areas. Our proprietary carpet clean system will provide you with a deep-cleaning using neutral cleaning chemicals that dry quickly and flush dirt and pollutants from the fibers.
Retail Cleaning:
When it comes to retail cleaning services, first and lasting impressions count. EcoCare will provide you with first-class retail cleaning services that will help bring out the very best in your store's appearance. Visit our RETAIL CLEANING page for more information.
Restaurant and Bar Cleaning:
Operating and maintaining a restaurant or bar can be challenging. EcoCare can help your business succeed by getting your cleaning services done quickly and effectively, so you can concentrate on yours.
Construction Clean-Up:
Contractors throughout Texas depend on us to remove dirt, dust and debris that construction crews leave behind. EcoCare will prepare your building to be "move-in ready".
Porter / Matron Services:
Our highly trained and professional porters perform invaluable, time-saving services that will give your office or facility a professional touch, the value of which cannot be overstated.
Medical Services:
Our highly trained and medical cleaning professionals will clean and maintain your Medical Buildings.
Parking Lot Sweeping:
Your parking area may be the first part of your business a new client sees. EcoCare offers affordable, efficient and thorough parking lot maintenance that will ultimately help reduce costs and reflect the professional image of your organization.